How Fast Can You Change Timing Screws in a Production Line?
The wonder of the moving assembly line began with Henry Ford in 1913, streamlining the manufacturing process. Many manufacturing companies today rely on their assembly lines to maximize productivity, and if you work for a manufacturing company, you know how crucial it is that every part of your assembly line is in perfect working condition. The key to assembly lines and machines operating in perfect working condition with the optimal amount of efficiency is the timing screw. We at CSS International want to ensure that your production line has the best time screws and change parts to keep everything running smoothly.
Why Timing Screws Matter for Productivity and Efficiency
The core purpose of timing screws is to keep a consistent flow and transfer of products along a production line. Screws that are not fully functioning or the wrong screws can reduce efficiency and minimize productivity. A bad timing screw could even halt the production line altogether. This could put a serious dent in output and overall profit.
How Timing Screws Optimize Productivity
Quick and easy changing of timing screws is vital to the efficiency of your production line. A production line can only move as fast as the timing screws allow for, which is why high-quality timing screws are necessary for the efficiency, speed, and productivity of the production line. The speed at which timing screws switch from one task to the next largely depends on their design, quality, and shape.
Thanks to our top-of-the-line change parts, you can quickly switch out time screws on your production line hassle-free. Our change parts are custom-made for fast and simple changeovers, resulting in increased productivity. The innovative design of our change parts necessitates only minimal training and allows for easy-to-understand changeover procedures.
With our products, you will not have to ask yourself how you could generate more productivity. Instead, you will ask why you were not using CSS International's high-quality products sooner.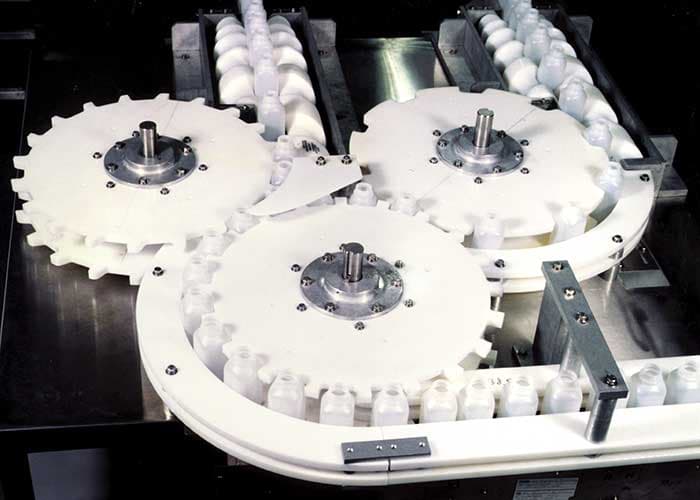 How Our Timing Screws Maximize Your Productivity
Here at CSS International, we focus on delivering the perfect product for your specific needs. Our timing screws can be specially engineered to accommodate the shape of the package you are producing whether it is circular, square, rectangular, triangular, or any other unique shape, or whether you are wanting to produce one package at a time or a group of similar container shapes.
Our time screws can also be customized to fulfill the purpose you have in mind including: product grouping, collating, turning, transfer, acceleration, deceleration, dwell pocketing, combination, labeling, division, and inspection. In addition, our screws can also be customized for various line types, such as Dedicated, Customized, and Quick-Change. Aspects of the screws also can be customized, including but not limited to the following: the materials, line speed, screw rotation, discharge spacing, and much more.
The unique possibilities we offer can help significantly defray costs because our products are specially designed and engineered to deliver what you need.
Discover Your Productivity Potential with CSS International
If you are looking to boost productivity on your assembly line, we can help! Contact us to discuss your options and receive a free quote. Call our toll-free number at 866-522-7904, fax us at 215-288-8030, email us at sales@ccsintl.com, or if you are in the area, stop by our location at 2061 E Glenwood Ave, Philadelphia, PA 19124. If you are still asking yourself what you could do to boost productivity, contact us now. We look forward to helping your company elevate its production quality and maximize its efficiency.