The List of Most Common Materials Used by Timing Screws Manufacturers
Timing screws are essential for metering and orienting containers on packaging lines that use automated equipment. This allows containers to be filled, labeled, bottom coded weighed and inspected more efficiently and precisely. Timing screws (also known as feed screws) can handle a variety of applications including combining, dividing, rotating, collating and denesting. If you are looking for timing screw materials out of pure curiosity or you are in need of a specific material, check out this common-materials-in-timing-screws guide below: The different materials are listed in order of use starting with most popular.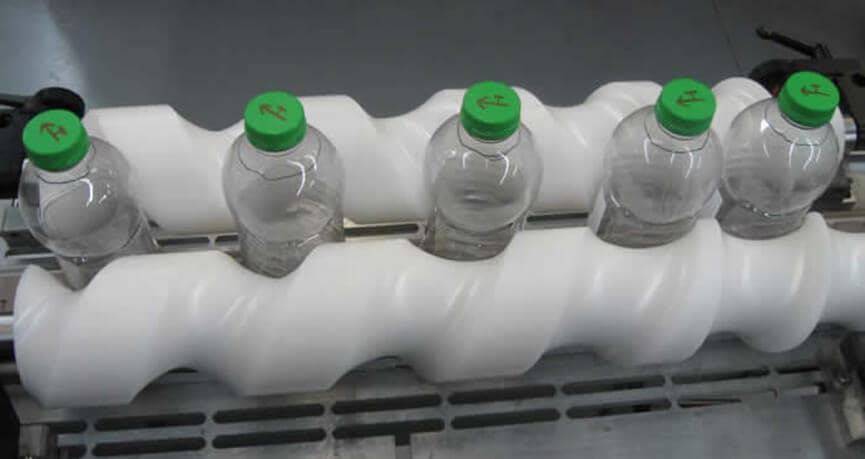 UHMW
Ultra High Molecular Weight Polyethylene (UHMW) is a thermoplastic polyethylene. This type of material has an extremely high abrasion resistance, making it widely used by timing screw manufacturers.
Delrin
Categorized as Polyoxymethylene, and otherwise known as an acetal, this is a type of engineering thermoplastic that is highly used for conveyor belt parts. It supplies the right stiffness, low friction, and dimensional stability needed for a fast and efficient production line.
Nylon
Nylon is extremely tough, lightweight, and has a protein-like chemical structure. It is easily made as filaments and sheets, and it can be molded as an object. Similar to aluminum, it is not made for durability. The use of it is simply to improve production speed through its lightweight and tough structure. It is a bit more expensive, however, timing screw manufacturers highly recommend using it.
Nylatron
Nylatron is part of the nylon plastics family and is typically filled with a type of chemical powder. This material is used to cast plastic parts for machines, to provide a wear-resistance substance.
Teflon
A chemical compound known officially as Polytetrafluoroethylene, Teflon is a synthetic fluoropolymer that can be used for a variety of applications. This material is very versatile for timing screw manufacturers.
Aluminum
Aluminum timing screws are specifically meant for more power and efficient product lines. They are produced for performance and not durability, which means they do require frequent replacements. Aluminum is a chemical element, with a silvery-white and soft non-magnetic metal. It is the second most used metal behind steel, however, it is one of the most popular choices for timing screws because it allows the machinery to achieve faster production due to its lightweight.
Contact Us Today
For all your production line needs, contact CSS International today. We deliver timing screws made out of high-quality materials that will provide efficient productivity.