Bottom Code / Inspection Diverters
CSS manufactures reliable bottom code/inspection diverters that allow for easy in-line container coding, labeling, marking or inspecting access. These handy conveyor line accessories are designed for quick container size adjustments (without the need for change parts, line splitting or slow down) and can be used in conjunction with existing print or label applications.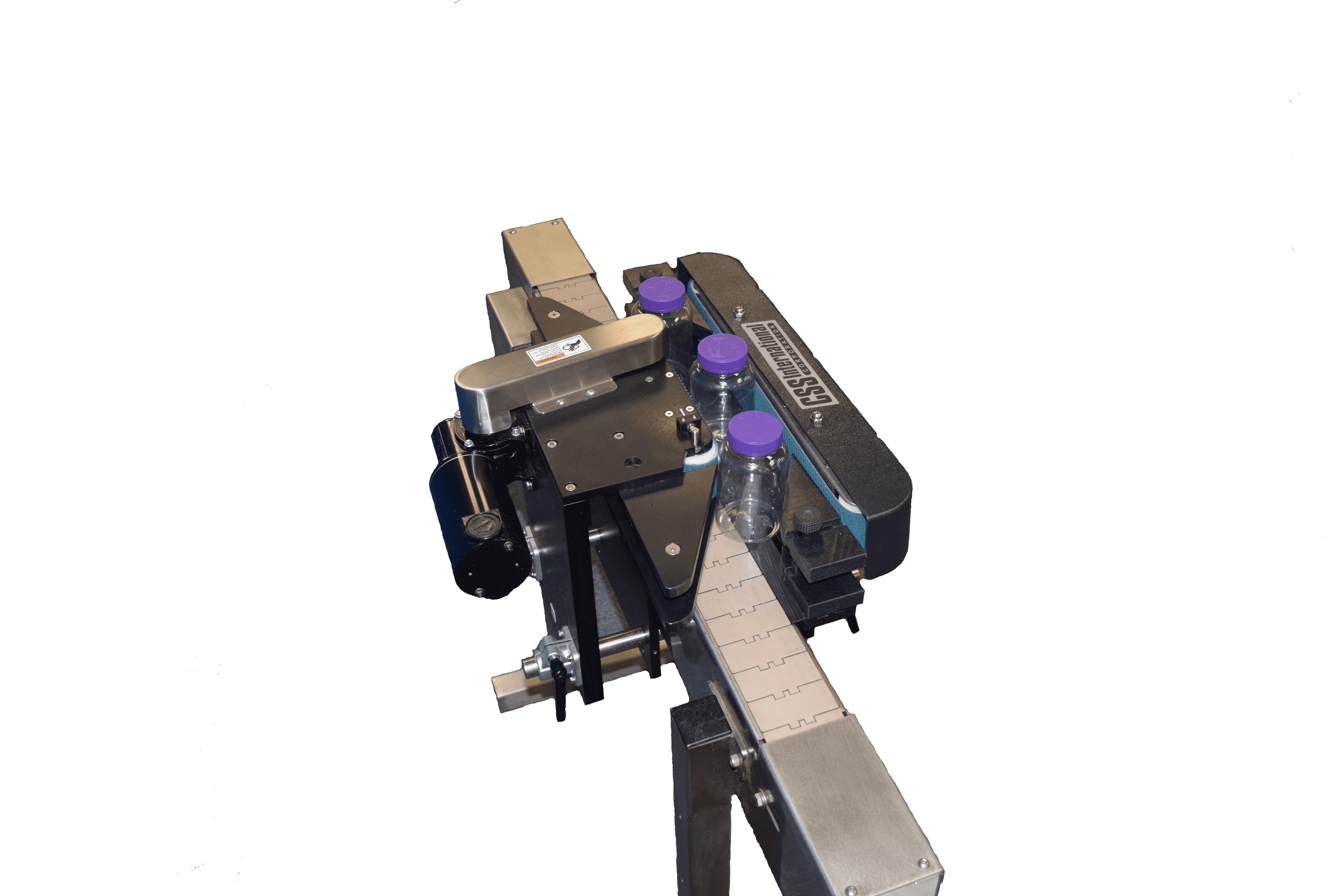 Built for Quality and Compliance
All CSS Bottom Code/Inspection Diverters are manufactured:
In anodized aluminum and stainless steel
With Safety Guards and Hygienic Sub-components
To handle most container shapes and sizes up to 4.75" wide
To operate at line surface speeds up to 125 ft./min.
To meet 120 VAC single phase 50/60 Hz US electrical code service requirements
With Two (2) 1/8 HP Permanent Magnet Gear Motors (AC Motors available)
In compliance with OSHA standards
In NEMA 1 Enclosures
The variable speed drive and controls ensure the unit matches existing conveyor line speeds, while the counter rotating belts and positive guides ensure that all containers follow a controlled path over the conveyor edge.
A Wide Variety of Customizable Options
Depending on your individual needs, our bottom code/inspection diverters can include:
Shaft encoders
High speed drives
Explosion proof motors
Wide & narrow face belts
Tapered container belt faces
Additional conveyor mounting plates
Full safety guard with door interlocked isolator
CSS bottom code/inspection diverters are carefully designed and manufactured for easy container access. Contact us today to learn more about this cost-saving coding/inspecting/labeling option. See datasheet for ordering.